01 Nov, 2018
Gnocchi al salmone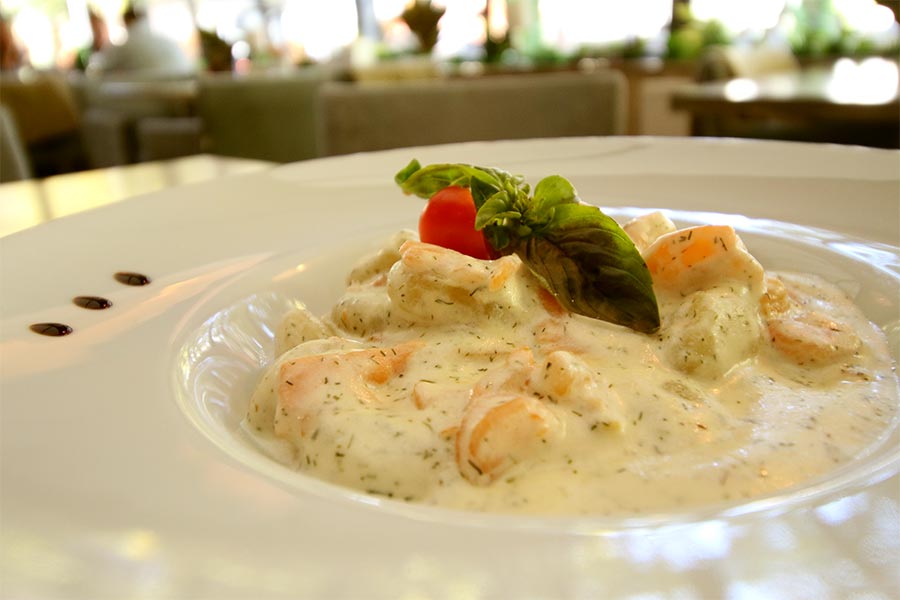 "Bella Vista" Lounge Bar & Restaurant is a trendy Italian restaurant, located in the heart of Skopje on the Vardar river quay. This restaurant offers a relaxed atmosphere, accompanied with a rich selection of deliciously prepared specialties. The restaurant mainly offers Italian cuisine, but prepares traditional dishes as well. Apart from the relaxed atmosphere and the beautifully decorated interior, the professional staff makes maximum efforts to satisfy all of the guests' needs and to make your visit a memorable one.
During our visit at "Bella Vista", the staff recommended trying Italian cuisine, so we decided to try Gnocchi al Salmone.
Gnocchi al Salmone are actually gnocchi in white sauce, shrimp and smoked salmon. The intensive flavor of this specialty comes from the combination of shrimp and white sauce. They are seasoned with garlic, white wine and dill, all of which add a nice twist to the dish. You can also add grated parmesan. This is a truly delicious specialty, and a perfect combination for all pasta lovers and seafood lovers as well as for all those who wish to try something different and unique. This dish goes well with good quality white wine, which you can select together with the staff at "Bella Vista" Lounge Bar & Restaurant.
We truly recommend this tasteful dish to all those who wish to try something savory and of top quality, while at the same time enjoying a vibrant atmosphere in the heart of the city.
---