About Us
Bella Vista - Lounge Bar & Restaurant is a remarkable Italian restaurant located in the heart of Skopje.
A getaway from the turbulent urban environment infused with a pleasant and relaxed atmosphere and meticulously combined with a wide range of deliciously prepared food that pleases all senses. This lounge bar and restaurant offers an amazing Italian cuisine menu that no one can resist.
A true opportunity to socialize and experience this remarkable restaurant in the capital.
Enjoy the uniqueness of the Italian cuisine and please all of your senses!
---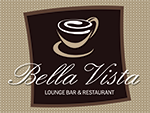 Kej 13 Noemvri 2/4 loc. 13
Address: Kej 13 Noemvri 2/4 loc. 13
Seats (Inside): 150
Seats (Outside): 140
Parking: Zone
We Accept:



Peт Friendly: No
Wheelchair Accessible: Yes
Languages: English
Music Type: Ambiental
Opened: 26.12.2013
Visits: 45554
Moday 08:00 - 00:00 No Events
Tuesday 08:00 - 00:00 No Events
Wednesday 08:00 - 00:00 No Events
Thursday 08:00 - 00:00 No Events
Friday 08:00 - 01:00 No Events
Saturday 08:00 - 01:00 No Events
Sunday 08:00 - 00:00 No Events