About Us
We are continuing the brand of highest quality service, top organization and hospitality in the new "Tino St. Stefan"Hotel – Restaurant.
This is an ideal place to relax and enjoy a drink, delicious food and evenings filled with traditional acoustic music that creates an intimate ambience.
Enjoy both domestic and international cuisine, fresh-water specialties and seafood specialties, and we offer a special surprise with Italian cuisine specialties meticulously prepared by our owner who has Italian origin.
You can also enjoy finest Macedonian and international wines.
We provide free internet access for our guests.
Top quality and pleasant ambience.
Come and visit us.
---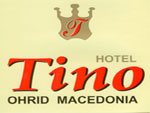 Sveti Stefan
Address: Sveti Stefan
Seats (Inside): 200
Seats (Outside): 50
Parking: 50
We Accept:


Peт Friendly: No
Wheelchair Accessible: Yes
Languages:
Music Type:
Opened: 02.10.2016
Visits: 23179
Moday 07:00 - 00:00 No Events
Tuesday 07:00 - 00:00 No Events
Wednesday 07:00 - 00:00 No Events
Thursday 07:00 - 00:00 No Events
Friday 07:00 - 01:00 No Events
Saturday 07:00 - 01:00 No Events
Sunday 07:00 - 00:00 No Events