About Us
From formal banquets for up to 120 persons to a private party for 10, Millenium Palace can provide everything necessary for the successful holding of special functions. Millenium Palace has perfected the organizational expertise required to ensure that everything runs smoothly, whether it's a gala ball, sumptuous banquet, cocktail party or business reception, Millenium Palace offers an extensive menu selection, which is certain to gratify even the most discerning diner.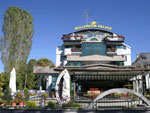 Kej Marsal Tito No.number
Reservation
and we will connect you with the restaurant
How it works?
Our phone center from the number:
02 3085600
will call your mobile, after answering we will connect you directly to the restaurant.
This restaurant is not accepting web reservations,
Use free call instead.
Choose date
Choose guests
Address: Kej Marsal Tito No.number
Seats (Inside): 200
Seats (Outside): 150
Parking: 60
We Accept:


Peт Friendly: No
Wheelchair Accessible: Yes
Free Wifi: Yes
Languages: English, Holland, Deutsch
Music Type: International
Opened: 01.01.2001
Visits: 7397
Moday 06:00 - 00:00 No Events
Tuesday 06:00 - 00:00 No Events
Wednesday 06:00 - 00:00 No Events
Thursday 06:00 - 00:00 No Events
Friday 06:00 - 00:00 No Events
Saturday 06:00 - 01:00 No Events
Sunday 06:00 - 00:00 No Events