About Us
"Doma" is a tavern located in the eastern part of Skopje in the Ilinden area at only 13 km from the city center.
You will be drawn by our wood and stone-infused interior, two summer terraces, two VIP rooms and a hall for organization of celebrations.
Our experience includes more than 10 years of work and we are well known for delicious and fresh-tasting ribs, Sharska burger, Vešalica(pork loin), etc.
We also prepare charcoal grill and sell meat per kilogram as well as organize live music
---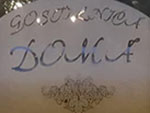 Str. 9 No.124 Ilinden
We recommend

online

reservation
A reply is received from the restaurant within a few minutes
GET: discounts, value voucher points, free taxi voucher, chance for rating and comments
This restaurant is not accepting web reservations,
Use free call instead.
Choose date
Choose guests
Address: Str. 9 No.124 Ilinden
Seats (Inside): 70
Seats (Outside): 90
Parking: 100
We Accept:



Peт Friendly: No
Wheelchair Accessible: Yes
Languages:
Music Type:
Opened: 2008
Visits: 78229
Moday 09:00 - 00:00 No Events
Tuesday 09:00 - 00:00 No Events
Wednesday 09:00 - 00:00 No Events
Thursday 09:00 - 00:00 No Events
Friday 09:00 - 01:00 No Events
Saturday 09:00 - 01:00 No Events
Sunday 09:00 - 00:00 No Events