About Us
If you want to avoid the city noise, we are offering an ideal place for enjoyment. Welcome to "Dva Elena" restaurant, where you will be able to feel a warm and pleasant ambience spiced with delicious international cuisine and professional service. We are expecting you!
---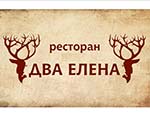 Zagrebska 31
We recommend

online

reservation
A reply is received from the restaurant within a few minutes
GET: discounts, value voucher points, free taxi voucher, chance for rating and comments
This restaurant is not accepting web reservations,
Use free call instead.
Choose date
Choose guests
Address: Zagrebska 31
Seats (Inside): 110
Seats (Outside): 60
Parking: 30
We Accept:


Peт Friendly: No
Wheelchair Accessible: Yes
Languages: English
Music Type: Acoustic, Old city, Live
Opened: 01.01.2008
Visits: 69771
Moday 10:30 - 00:00 Traditional Macedonian Folk Music
Tuesday 10:30 - 00:00 No Events
Wednesday 10:30 - 00:00 No Events
Thursday 10:30 - 00:00 Acoustic music
Friday 10:30 - 01:00 No Events
Saturday 10:30 - 01:00 No Events
Sunday 10:30 - 22:00 No Events