About Us
If you want to avoid the city noise, we are offering an ideal place for enjoyment. Welcome to "Dva Elena" restaurant, where you will be able to feel a warm and pleasant ambience spiced with delicious international cuisine and professional service. We are expecting you!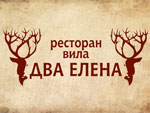 Zagrebska 31
Reservation
and we will connect you with the restaurant
How it works?
Our phone center from the number:
02 3085600
will call your mobile, after answering we will connect you directly to the restaurant.
This restaurant is not accepting web reservations,
Use free call instead.
Choose date
Choose guests
Address: Zagrebska 31
Seats (Inside): 110
Seats (Outside): 60
Parking: 30
We Accept:


Peт Friendly: No
Wheelchair Accessible: Yes
Free Wifi: Yes
Languages: English
Music Type: Acoustic, Old city, Live
Opened: 01.01.2008
Visits: 19329
Moday 09:00 - 00:00 Акустична Музика (виолина, гитара, хармоника)
Tuesday 09:00 - 00:00 Акустична Музика (виолина, гитара, хармоника)
Wednesday 09:00 - 00:00 Акустична Музика (виолина, гитара, хармоника)
Thursday 09:00 - 00:00 Акустична Музика (виолина, гитара, хармоника)
Friday 09:00 - 01:00 Трајче & Анастасија Петреска
Saturday 09:00 - 01:00 Гоце & Анастасија Петреска
Sunday 09:00 - 00:00 Акустична Музика (виолина, гитара, хармоника)