About Us
Barik is a bustling tavern in Skopje that has recently relocated to the vibrant Boemska Street.

This cozy restaurant is a favorite among locals, offering a taste of authentic Macedonian cuisine in a lively atmosphere. With its friendly staff, bustling crowds, and delicious food, Barik is the perfect place to enjoy a night out with friends or family.
Come savor the flavors of Macedonia and experience the warmth of the Balkan hospitality at Barik!
---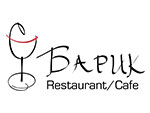 Gjorgji Peshkov No.8
We recommend

online

reservation
A reply is received from the restaurant within a few minutes
GET: discounts, value voucher points, free taxi voucher, chance for rating and comments
This restaurant is not accepting web reservations,
Use free call instead.
Choose date
Choose guests
Address: Gjorgji Peshkov No.8
Seats (Inside): 50
Seats (Outside): 30
Parking:
We Accept:


Peт Friendly: No
Wheelchair Accessible: Yes
Languages:
Music Type:
Opened: 2016
Visits: 40447
Moday 08:00 - 00:00 No Events
Tuesday 08:00 - 00:00 No Events
Wednesday 08:00 - 00:00 No Events
Thursday 08:00 - 00:00 No Events
Friday 08:00 - 01:00 No Events
Saturday 08:00 - 01:00 No Events
Sunday 08:00 - 00:00 No Events