02 Apr, 2018
Pork tenderloin in almond sauce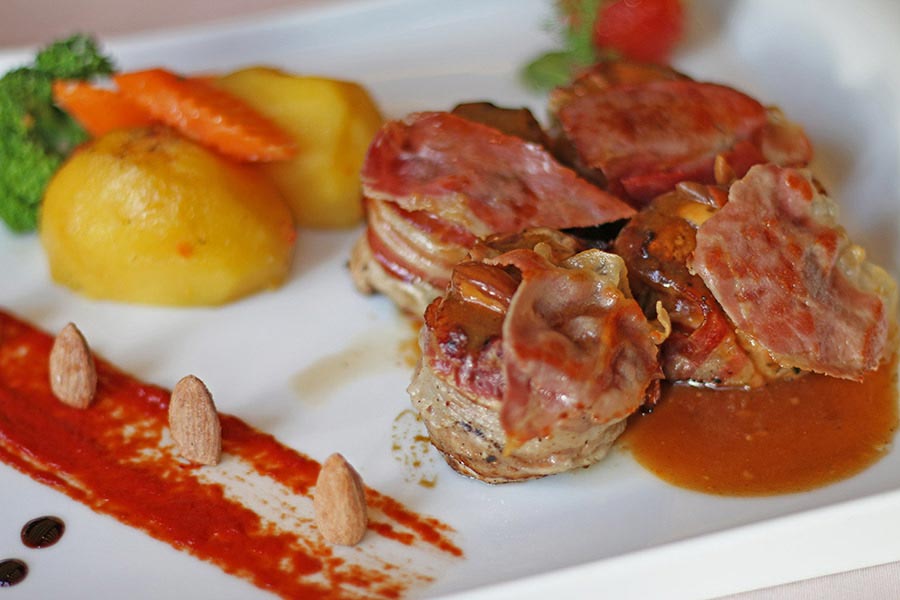 After hearing so many amazing comments about this restaurant, we decided to make a reservation and to taste their specialties ourselves. Now, we want to share this experience and tell you about the pork tenderloin dish prepared at this restaurant. Pork tenderloin in almond sauce is one of the many specialties prepared in "Stara Kuka" (Old City House) and it is an unconventional and exceptionally delicious dish.
The restaurant staff recommended trying this dish prepared with pork fillet in an authentic way. The pork was wrapped in pancetta and prosciutto, sliced in four equal pieces. This dish is garnished with steamed carrot, potato and broccoli, which had a specific flavor because they soak up the flavors of different seasoning and herbs. The meat was medium rare and roasted in a wood fired oven because in this way all flavors are fused together. Seasoned with different herbs, almond sauce and the authentic sauce prepared by this restaurant, pork tenderloin is a perfect combination of flavors created by the skilled gastronomy chefs in this restaurant.
We were especially distracted by the meat's tenderness and juiciness. In fact, the juice from the meat soaks up all aromas that add rich tanginess to this specialty. It is also important to mention that all homemade sauces in "Stara Kuka" do not contain flour and other allergens.
The food, the service and the hospitality of the staff as well as the overall atmosphere at this restaurant deserve highest appraisal and recommendations.
If you are looking for high level quality, "Stara Kuka" is the place where you can enjoy all these benefits.
---