About Us
In your pleasant you will feel yourself very relaxed far from the city noise, in the intimate atmosphere you will enjoy in the specialties from the Macedonian climate. In the evening hours you will have pleasure with the sounds of the old city music.
The Restaurant "Nacional" is placed in the very center of the city across City Trade Center, In the building of the Worker`s University "Koco Racin" and the Cultural Informative Center - Skopje. We arrange special business dinner according to your wish.
---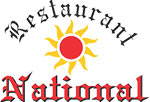 Boulevard Filip the second
We recommend

online

reservation
A reply is received from the restaurant within a few minutes
GET: discounts, value voucher points, free taxi voucher, chance for rating and comments
This restaurant is not accepting web reservations,
Use free call instead.
Choose date
Choose guests
Address: Boulevard Filip the second
Seats (Inside): 110
Seats (Outside): 100
Parking: Zone
We Accept:


Peт Friendly: No
Wheelchair Accessible: Yes
Languages: English
Music Type: Evergreen, International
Opened: 30.06.1999
Visits: 67070
Moday 08:00 - 00:00 No Events
Tuesday 08:00 - 00:00 No Events
Wednesday 08:00 - 00:00 No Events
Thursday 08:00 - 00:00 No Events
Friday 08:00 - 01:00 No Events
Saturday 08:00 - 01:00 No Events
Sunday 08:00 - 00:00 No Events