About Us
Hotel Millennium is an attractive hotel constructed and designed in baroque style the tradition of Bitola in new contemporary architecture and impeccable interior that give an authentic feeling. The restaurant in located in the heart of Bitola Sirok Sokak (alley) which reflects time, history and past with its recognizable architectural construction. It is only 200m from the city clock tower.
The hotel has at disposal 22 standard rooms, 4 luxury apartments, restaurant with 50 seats, booth for meetings lobby bar with 20 seats, seminar hall with 60 seats, parking lot (15 parking places) with security cameras. Each room is equipped with a TV set, cable programme, internet connection, mini bar, direct telephone line, smoke and fire detectors, automatic air conditioning, bathrooms with full toilet equipment and hair dryers, exclusive showers with sauna and Jacuzzi in the apartments, electronic security system door open card, 24 hour reception, safe deposit box for every room.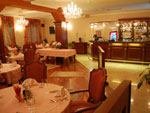 Marsal Tito No.48
Reservation
and we will connect you with the restaurant
How it works?
Our phone center from the number:
02 3085600
will call your mobile, after answering we will connect you directly to the restaurant.
This restaurant is not accepting web reservations,
Use free call instead.
Choose date
Choose guests
Address: Marsal Tito No.48
Seats (Inside): 70
Seats (Outside): 30
Parking: 15
We Accept:


Peт Friendly: No
Wheelchair Accessible: Yes
Free Wifi: Yes
Languages: English
Music Type: International
Opened: 20.06.2007
Visits: 10096
Moday 07:00 - 00:00 No Events
Tuesday 07:00 - 00:00 No Events
Wednesday 07:00 - 00:00 No Events
Thursday 07:00 - 00:00 No Events
Friday 07:00 - 01:00 No Events
Saturday 07:00 - 01:00 No Events
Sunday 07:00 - 00:00 No Events