About Us
Star restaurants are created in Macedonia. We visited some of them to the delight of our senses and we will share this three-day gastronomic adventure with you.
We began with fish stock at the new national tavern "Dukat", served in a traditional pot reminiscent of the scenes from the series of Macedonian folk stories. This stock represents true Macedonian art in terms of its preparation, fine structure and density, not too thick with carefully included pieces of red trout.
We continued with "meze dish" prepared in Galichnik style,which includes full-fat sheep's cheese with silky structure and ripe sharp yellow-cheese from Galichnik combined with pie and makalo. We were delighted by the old and a hundred-times confirmed recipe for preparing pork knuckles ("Kolenica").The soft texture of the meat is attained through careful softening with long slow boiling, after which it is roasted and covered with fine reduced brown bone sauce.
Accompanied with carefully selected music, we ended our experience at "Dukat" with caramelized quince that symbolizes the soul of the hard-working Macedonian woman, cooled with a scoop of delicious vanilla icecream.
---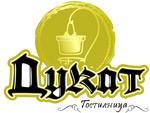 Teodosij Gologanov No.79
Address: Teodosij Gologanov No.79
Seats (Inside): 140
Seats (Outside): 80
Parking:
We Accept:


Peт Friendly: No
Wheelchair Accessible: Yes
Languages:
Music Type:
Opened: 01.01.2003
Visits: 99010
Moday 08:00 - 00:00 No Events
Tuesday 08:00 - 00:00 No Events
Wednesday 08:00 - 00:00 No Events
Thursday 08:00 - 00:00 No Events
Friday 08:00 - 01:00 No Events
Saturday 08:00 - 01:00 No Events
Sunday 08:00 - 00:00 No Events