About Us
"Chun" restaurant is located in the old part of Ohrid, next to the Ohrid lake coast. If you prefer rich and delicious Macedonian dishes spiced up with tasty Macedonian wine – you are at the right place.
Our staff will make sure that you receive special attention and in the evenings we provide a good atmosphere with an orchestra playing traditional acoustic music.
We are expecting you at "Chun"...
---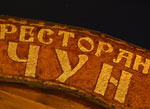 Kosta Abras No.4
We recommend

online

reservation
A reply is received from the restaurant within a few minutes
GET: discounts, value voucher points, free taxi voucher, chance for rating and comments
Enter your phone number and we will connect you with the restaurant
or call
+389 2 3085 600 ext 987
This restaurant is not accepting web reservations,
Use free call instead.
Choose date
Choose guests
Address: Kosta Abras No.4
Seats (Inside): 40
Seats (Outside): 90
Parking:
We Accept:


Peт Friendly: No
Wheelchair Accessible: Yes
Free Wifi: Yes
Languages:
Music Type:
Opened: 28.07.2010
Visits: 17682
Moday 10:00 - 00:00 No Events
Tuesday 10:00 - 00:00 No Events
Wednesday 10:00 - 00:00 No Events
Thursday 10:00 - 00:00 No Events
Friday 10:00 - 01:00 No Events
Saturday 10:00 - 01:00 No Events
Sunday 10:00 - 00:00 No Events