About Us
"Chun" restaurant is located in the old part of Ohrid, next to the Ohrid lake coast. If you prefer rich and delicious Macedonian dishes spiced up with tasty Macedonian wine – you are at the right place.
Our staff will make sure that you receive special attention and in the evenings we provide a good atmosphere with an orchestra playing traditional acoustic music.
We are expecting you at "Chun"...
---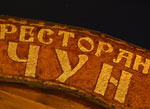 Kosta Abras No.4
Address: Kosta Abras No.4
Seats (Inside): 40
Seats (Outside): 90
Parking:
We Accept:


Peт Friendly: No
Wheelchair Accessible: Yes
Languages:
Music Type:
Opened: 28.07.2010
Visits: 41847
Moday 10:00 - 00:00 No Events
Tuesday 10:00 - 00:00 No Events
Wednesday 10:00 - 00:00 No Events
Thursday 10:00 - 00:00 No Events
Friday 10:00 - 01:00 No Events
Saturday 10:00 - 01:00 No Events
Sunday 10:00 - 00:00 No Events