About Us
"Fish" restaurant, as part of Hotel Aristocrat, is the fourth one opened in Skopje under the same brand.
We are well known for first-class cuisine and we have received the 2016 Best Catering Facility Award. We serve seafood, grilled fish specialties as well as domestic and international dishes that please all tastes.
We would like to invite you to a pleasant atmosphere on our delightful summer terrace or in our comfortable interior.
---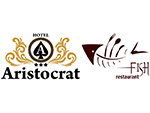 Elisie Popovski Marko No.59
Address: Elisie Popovski Marko No.59
Seats (Inside): 50
Seats (Outside): 70
Parking: 10
We Accept:


Peт Friendly: No
Wheelchair Accessible: Yes
Languages:
Music Type:
Opened: 12.04.2017
Visits: 34383
Moday 08:00 - 00:00 No Events
Tuesday 08:00 - 00:00 No Events
Wednesday 08:00 - 00:00 No Events
Thursday 08:00 - 00:00 No Events
Friday 08:00 - 01:00 No Events
Saturday 08:00 - 01:00 No Events
Sunday 08:00 - 00:00 No Events