About Us
"Distrikt" Bar and Kitchen is a dining venue with relaxed and pleasant atmosphere, good service and experienced staff.
Our menu is multicultural and includes Macedonian, Mediterranean and Eastern European influence.
The stylish lounge bar is transformed from a vibrant café during the day into a bar where handmade cocktails are served in the afternoon. The restaurant has powerful vibes from the moment you enter it, regardless of whether you enter through the street entrance, where you will be greeted by our energetic and friendly team, or through the hotel where the view, the smell and the sounds coming from the open kitchen take you to the center of all happenings.
---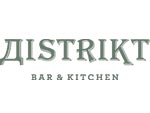 Plostad Makedonija 7
Special Offers
19 April, 2019 - 31 May, 2019

We recommend

online

reservation
A reply is received from the restaurant within a few minutes
GET: discounts, value voucher points, free taxi voucher, chance for rating and comments
Enter your phone number and we will connect you with the restaurant
or call
+389 2 3085 600 ext 466
This restaurant is not accepting web reservations,
Use free call instead.
Choose date
Choose guests
Address: Plostad Makedonija 7
Seats (Inside): 120
Seats (Outside): 100
Parking: With every bill of 1000mkd free parking
We Accept:



Peт Friendly: Yes
Wheelchair Accessible: Yes
Free Wifi: Yes
Languages: English
Music Type:
Opened: 04.05.2016
Visits: 4654
Moday 07:00 - 00:00 No Events
Tuesday 07:00 - 00:00 No Events
Wednesday 07:00 - 00:00 No Events
Thursday 07:00 - 00:00 No Events
Friday 08:00 - 01:00 No Events
Saturday 07:00 - 01:00 No Events
Sunday 07:00 - 00:00 No Events