About Us
The restaurant at the 5-star Hotel Limak Skopje offers a dining experience like no other.
With a menu that features a fusion of international, turkihs, italian, local cuisine and contemporary culinary techniques, diners are treated to a feast for both the palate and the eyes.
The elegant and sophisticated ambiance of the restaurant is complemented by the attentive service from the knowledgeable and friendly staff.
Whether you're looking to celebrate a special occasion or simply enjoy a delicious meal, the restaurant at Hotel Limak Skopje is the perfect destination.
---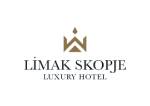 Str. Zeleznicka No. 31
Special Offers
Prednovogodisna ponuda
30 November, 2023 - 31 December, 2023

We recommend

online

reservation
A reply is received from the restaurant within a few minutes
GET: discounts, value voucher points, free taxi voucher, chance for rating and comments
This restaurant is not accepting web reservations,
Use free call instead.
Choose date
Choose guests
Address: Str. Zeleznicka No. 31
Seats (Inside): 140
Seats (Outside): 30
Parking: 3 levels parking
We Accept:


Peт Friendly: No
Wheelchair Accessible: Yes
Languages: English, Turkish
Music Type: Relax music
Opened: 24.04.2021
Visits: 3188
Moday 08:00 - 00:00 No Events
Tuesday 08:00 - 00:00 No Events
Wednesday 08:00 - 00:00 No Events
Thursday 08:00 - 00:00 No Events
Friday 08:00 - 01:00 No Events
Saturday 08:00 - 01:00 No Events
Sunday 08:00 - 00:00 No Events