About Us
Since its opening and until present date, "Goce" restaurant remains to be one of the most pleasant places for entertainment, fun and celebrations in Skopje. We are located in the eastern part of the city in the area of Chento.
This restaurant mesmerizes with its luxurious and exclusively designed interior. Our guests enjoy the specialties prepared by top chefs, the supreme service, the amazing atmosphere and the delicate music sounds. The rich menu is abundant in lavish tastes from the national and otherinternational cuisines and it is an extraordinary culinary experience accompanied with exquisite selection of high quality wines.
"Goce" restaurant is able to meet all of our clients' needs. Our staff is here to accommodate your wishes and to organize the following festivities: private diners, weddings, business meetings, birthdays, retirement parties, anniversaries, receptions, cocktail parties, promotional activities and presentations, etc.
Our team is at your disposal and willing to help you plan your celebrations as well as to respond to any additional requests that guests might have, such as: flower arrangements, balloons, candles, special light effects, different type of music, photographer, video producer, etc. The lovely atmosphere, the exquisite food and affordable prices will contribute to making your celebration an exciting and remarkable experience. Have faith in us, and we will justify your trust.

All newlyweds get special surprises:
Free wedding invitations
Free lunch/dinner cards
Free champagne for the newlyweds
Free bridal cake

---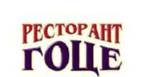 Str. Magjari No.59
Address: Str. Magjari No.59
Seats (Inside): 400
Seats (Outside):
Parking: 50
We Accept:


Peт Friendly: No
Wheelchair Accessible: Yes
Languages: English
Music Type: By deal
Opened: 09.02.1999
Visits: 24205
Moday 08:00 - 00:00 No Events
Tuesday 08:00 - 00:00 No Events
Wednesday 08:00 - 00:00 No Events
Thursday 08:00 - 00:00 No Events
Friday 08:00 - 01:00 No Events
Saturday 08:00 - 01:00 No Events
Sunday 08:00 - 00:00 No Events