About Us
"KAM Village" is the largest regional trade, entertaining and shopping center in the Ohrid region.
Investor of this project is the "KAM Holding" company, which has been present on the market for 20 years and is a part of the largest hard discounts chain "KAM".
The shopping center will be a true economy driver in the Ohrid region and wider, and the companies that will be stationed in the complex will have their own contribution as well.
The center is comprised of three major units including:
- Shopping center with an area of over 5,000 m2 with over 50 stores for clothing, footwear, drugstore, pharmacy, supermarket, optic shop, bank, pet shop, coffee bar, etc.
- Hotel with 40 modern furnished rooms, a spacious lobby and a Lounge bar, as well as a congress hall, indoor swimming pool, a spa and a fitness center, etc.
- The largest children's playroom in the region of over 700 m2 of open and closed space with its own cafe bar and numerous contents for the youngest and teenagers.
The shopping center is located just 250 meters from the Inter-city bus station in Ohrid, 1,400 m from the Ohrid Lake shore and only 200 m from the second most frequent road, at the entrance in Ohrid from Bitola. The capacity is estimated to serve around 20,000 visitors per day.
With the construction of the new Shopping Center, over 240 thousand citizens of Ohrid and the wider region, including the surrounding cities - Struga, Resen, Bitola, Prilep, Kicevo as well as the border towns of the Albanian part of the lake, will get a new and modern trade, entertainment and shopping center that will meet all their needs.
Be a part of our story!
"KAM Village" Shopping center – Ohrid
The new city center!!!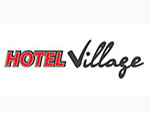 7-mi Noemvri br. 179
Enter your phone number and we will connect you with the restaurant
or call
+389 2 3085 600 ext 544
Address: 7-mi Noemvri br. 179
Seats (Inside): 110
Seats (Outside):
Parking: 100
We Accept:


Peт Friendly: No
Wheelchair Accessible: Yes
Free Wifi: Yes
Languages:
Music Type:
Opened: 22.01.2018
Visits: 1965
Moday 08:00 - 22:00 No Events
Tuesday 08:00 - 22:00 No Events
Wednesday 08:00 - 22:00 No Events
Thursday 08:00 - 22:00 No Events
Friday 08:00 - 21:00 No Events
Saturday 08:00 - 22:00 No Events
Sunday 08:00 - 22:00 No Events