About Us
"VIA IGNATIA" RESTAURANT IS LOCATED AMIDST UNDISTURBED NATURE IN THE HISTORICAL AREA OF VEVCHANI
As part of the renowned construction company "VIA", in the historical area of Vevchani, "VIA IGNATIA" restaurant already exists for 25 years and has turned into a synonym for exquisite taste and high catering standards. Combined with the traditional hospitality characteristic for Vevchani and the authentic natural ambience, we have created a mesmerizing place that immediately enchants our guests. Far from the city noise at only a few kilometers from the Ohrid coastline, in the historical area of Vevchani, the top professional chefs prepare the most delicious food for our guests, including authentic recipes and gourmet cuisine.
As a result of our long-year experience and the dedication of our staff, "VIA IGNATIA" has become a synonym for a number of unique specialties that are the perfect blend of traditional Macedonian and international cuisine.
Located at the foot of mountain Jablanica, the restaurant mesmerizes with its architectural uniqueness in addition to the surrounding natural beauties. The Vevchani springs, the large number of historical localities, churches and monasteries as well as the lush woods should inspire you to dedicate a part of your time to fun and enjoyment.
The restaurant's capacity is 150 guests. We offer a VIP hall, large terrace, personal fish pond, kids' area, large outdoor space and parking space for 50 vehicles.
Inspired by our guests' needs, as part of the restaurant we also offer highest category apartments for overnight stay.
If you want to escape the dynamic everyday life, "VIA IGNATIA" is a great choice for yourvacation, memorable family meals, celebrations, conferences or congresses.
The restaurant's professional team is always at your service and ready to offer their full attention in order to provide our guests with an unforgettable and enjoyable experience that keeps making our guests come back for more pleasant moments in both "VIA IGNATIA" and in Vevchani.
---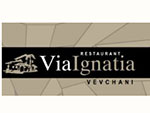 Vevcani
We recommend

online

reservation
A reply is received from the restaurant within a few minutes
GET: discounts, value voucher points, free taxi voucher, chance for rating and comments
Enter your phone number and we will connect you with the restaurant
or call
+389 71305416

This restaurant is not accepting web reservations,
Use free call instead.
Choose date
Choose guests
Address: Vevcani
Seats (Inside): 110
Seats (Outside): 150
Parking: 50
We Accept:


Peт Friendly: No
Wheelchair Accessible: Yes
Free Wifi: Yes
Languages: English
Music Type: Intarnational
Opened: 20.07.1984
Visits: 6599
Moday 10:00 - 00:00 No Events
Tuesday 10:00 - 00:00 No Events
Wednesday 10:00 - 00:00 No Events
Thursday 10:00 - 00:00 No Events
Friday 10:00 - 00:00 No Events
Saturday 10:00 - 00:00 No Events
Sunday 10:00 - 00:00 No Events