About Us
Moments to Remember...
You have an upcoming event in future... A wedding, birthday, baptism... Maybe an anniversary or a dinner with your business partners... The solution is only a phone call away. The team at the hotel-retaurant "Tomche Sofka" is available at your disposal at any time. We are ready to offer you an excellent choice of quality food and services, to help you choose music, photographer and accommodation which will suit such an event... Spend Your unforgettable moments in an elegant space with superb food and entertainment...
CELEBRATIONS - In you have a special request for a menu for your event (outside our standard offer shown in product list), our team is at your disposal for modifications and supplements to the menus…
COCKTAILS - Do you wish your cocktail party to be a success and according to all the standards, and your guests to be satisfied with the service, food and entrainment... then come to the hotel-restaurant "Tomche Sofka", Our team is at your disposal for organising a cocktail party which will be a success..
WEDDINGS - Organizing weddings can be a stressful job, but not if you decide to have your wedding celebration in the hotel-restaurant "Tomche Sofka". With the exclusive space and the restaurant for 160 guests and the excellent offer of wedding menus, the only thing which you will need to worry about are your invitations and having a nice rest before the big day… If you require help with choosing the food, music, cameraman, photographer, limousine or any other service our team is at your disposal…
---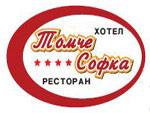 Jordan H.K Ginot 14
We recommend

online

reservation
A reply is received from the restaurant within a few minutes
GET: discounts, value voucher points, free taxi voucher, chance for rating and comments
This restaurant is not accepting web reservations,
Use free call instead.
Choose date
Choose guests
Address: Jordan H.K Ginot 14
Seats (Inside): 175
Seats (Outside): 150
Parking: 50
We Accept:


Peт Friendly: No
Wheelchair Accessible: Yes
Languages: Engish, German, Greek
Music Type: International, Old city
Opened: 22.12.1999
Visits: 31276
Moday 08:00 - 00:00 No Events
Tuesday 08:00 - 00:00 No Events
Wednesday 08:00 - 00:00 No Events
Thursday 08:00 - 00:00 No Events
Friday 08:00 - 01:00 No Events
Saturday 08:00 - 01:00 No Events
Sunday 08:00 - 00:00 No Events