About Us
The restaurant Ostrovo is located on southeast side of Lake Ohrid on the one of the two islands in the springs of Crn Drim river, near the monastery of St. Naum Ohridski surrounded with the best nature in the wider region of Ohrid. The restaurant offers place for 90 persons whereas on terrace can sit additional 80 persons in the winter, during the spring and summer whole island becomes a garden-restaurant with more than 500 places for our tourists. Boat cruise above the springs of Black Drim River Very famous are the boat tours along the 700 meters springs, mother of the Lake Ohrid - river Crn Drim. From 45 discovered springs, 30 are underwater. These springs are home of endemic flora and fauna like spices of alga with violet color and the most specific small water turtles, which are very rare and can be seen from June to October.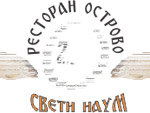 Sveti Naum Ljubanista
Reservation
and we will connect you with the restaurant
How it works?
Our phone center from the number:
02 3085600
will call your mobile, after answering we will connect you directly to the restaurant.
This restaurant is not accepting web reservations,
Use free call instead.
Choose date
Choose guests
Address: Sveti Naum Ljubanista
Seats (Inside): 150
Seats (Outside): 500
Parking: 50
We Accept:


Peт Friendly: No
Wheelchair Accessible: Yes
Free Wifi: Yes
Languages:
Music Type:
Opened: 01.01.1960
Visits: 10044
Moday 08:00 - 00:00 No Events
Tuesday 08:00 - 00:00 No Events
Wednesday 08:00 - 00:00 No Events
Thursday 08:00 - 00:00 No Events
Friday 08:00 - 00:00 No Events
Saturday 08:00 - 00:00 No Events
Sunday 08:00 - 00:00 No Events