About Us
"Lihnidos" restaurant is located in the heart of the city on the square in the center of Ohrid.
Our restaurant is the right choice if you want to enjoy a diverse offer of fresh Macedonian and international food, while at the same time enjoying an attractive view of the Ohrid Lake.
You can try the renown Ohrid trout here as well as traditional food, such as Macedonian salad, Ohrid makalo, fish stock, Ohrid cake, etc.
Our menu is abundant in meat specialties, pasta, pizza, fish and seafood prepared in our kitchen with a tremendous amount of love. Apart from luscious food and top service, we offer a place where you can organize your celebrations and festivities. Our goal is satisfaction for our guests. Come visit us!
---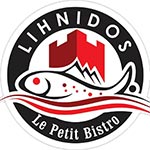 Kosta Abras No.1 Ohrid
Address: Kosta Abras No.1 Ohrid
Seats (Inside): 250
Seats (Outside): 100
Parking: Zone
We Accept:


Peт Friendly: No
Wheelchair Accessible: Yes
Languages: English
Music Type: Intarnational
Opened: 2016
Visits: 13860
Moday 08:00 - 00:00 No Events
Tuesday 08:00 - 00:00 No Events
Wednesday 08:00 - 00:00 No Events
Thursday 08:00 - 00:00 No Events
Friday 08:00 - 01:00 No Events
Saturday 08:00 - 01:00 No Events
Sunday 08:00 - 00:00 No Events