About Us
At the Kutmicevica Pension, guests can feast on hearty Macedonian cuisine, along with the local community, in the large dining hall with 60 seats and outdoor terrace with 20 seats.Positioned in the picturesque village of Vevcani, the restaurant Kutmicevica uses the advantage of the completely unpolluted soil around the village to grow and produce organic vegetables and fruits.
The Kutmičevica Restaurant owns a vineyard and produces its own wine and superb grape brandy, which are served to true lovers of delicious beverages. Come and visit us, our commitment is to surely make your tour to Vevcani unforgettable.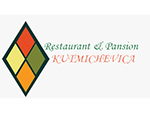 Vevcani
Reservation
and we will connect you with the restaurant
How it works?
Our phone center from the number:
02 3085600
will call your mobile, after answering we will connect you directly to the restaurant.
This restaurant is not accepting web reservations,
Use free call instead.
Choose date
Choose guests
Address: Vevcani
Seats (Inside): 90
Seats (Outside):
Parking: Free
We Accept:


Peт Friendly: No
Wheelchair Accessible: Yes
Free Wifi: Yes
Languages: English
Music Type: Traditional
Opened: 01.12.2006
Visits: 1882
Moday 09:00 - 00:00 No Events
Tuesday 09:00 - 00:00 No Events
Wednesday 09:00 - 00:00 No Events
Thursday 09:00 - 00:00 No Events
Friday 09:00 - 00:00 No Events
Saturday 09:00 - 00:00 No Events
Sunday 09:00 - 00:00 No Events