About Us
"Kaskada" is an exclusive restaurant located in the heart of Skopje by the quay of the Vardar river with an irresistible and unforgettable atmosphere, a pool and fountains.
The main goal of this catering facility is to provide professional services for all of your treasurable moments, such as weddings, christenings, birthday parties and other types of celebrations.
Our staff will create an ideal and refined atmosphere as well as unforgettable moments. We give our best to satisfy our clients' needs by providing uttermost attention and hospitality to all of our guests.
Furthermore, the wedding prices for our esteemed guests also include the following:
Three-layer wedding cake;
Chocolate fountain (irresistibly abundant in original black and white chocolate);
Champagne;
Fully decorated ballroom (decorative covers and flowers on every table);
Decorated space for guest reception by the bride and groom;
Special decoration and entrance for the bride and groom (lift);
Special disco effects (flames, fume machine, snow machine, balloon machine, lasers, blinkers, etc.);
Hydraulic podium (dance podium).
We give our best to create pleasure and memorable moments for our guests at "KASKADA" restaurant.
---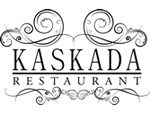 Bul. Partizanski Odredi 1/32
Enter your phone number and we will connect you with the restaurant
or call
+389 2 3085 600 ext 576
Address: Bul. Partizanski Odredi 1/32
Seats (Inside): 320
Seats (Outside):
Parking: Free
We Accept:


Peт Friendly: No
Wheelchair Accessible: Yes
Free Wifi: Yes
Languages: English
Music Type: On request
Opened: 2003
Visits: 10932
Moday 09:00 - 00:00 No Events
Tuesday 09:00 - 00:00 No Events
Wednesday 09:00 - 00:00 No Events
Thursday 09:00 - 00:00 No Events
Friday 09:00 - 01:00 No Events
Saturday 09:00 - 01:00 No Events
Sunday 09:00 - 00:00 No Events