About Us
Away from the city noise, you are invited to visit our restaurant and enjoy a warm and pleasant atmosphere as well as quality and diverse cuisines.
We organize family, business and other types of celebrations.
Our house specialties are: ROAST LAMB AND ROAST VEAL.
Children entertainment is available at our playground with SWINGS, TRAMPOLINE AND ROLLERCOASTER.
At weekends we offer PIZZAS at a promo price of 180 denar.
You are welcome to visit us and make sure of our quality...
---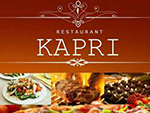 1551 No.1 Industriska Zone Vizbegovo
We recommend

online

reservation
A reply is received from the restaurant within a few minutes
GET: discounts, value voucher points, free taxi voucher, chance for rating and comments
This restaurant is not accepting web reservations,
Use free call instead.
Choose date
Choose guests
Address: 1551 No.1 Industriska Zone Vizbegovo
Seats (Inside): 200
Seats (Outside): 50
Parking: 40
We Accept:


Peт Friendly: No
Wheelchair Accessible: Yes
Languages:
Music Type:
Opened: 06.01.2016
Visits: 17563
Moday 08:00 - 00:00 No Events
Tuesday 08:00 - 00:00 No Events
Wednesday 08:00 - 00:00 No Events
Thursday 08:00 - 00:00 No Events
Friday 08:00 - 01:00 No Events
Saturday 08:00 - 01:00 No Events
Sunday 08:00 - 00:00 No Events