About Us
You are invited to "Grand Garden" restaurant where we make all your wishes come true.
You are having a wedding? Don't hesitate. Come visit us and leave the rest to us.
Our professional team will make your festive moments even more pleasant thanks to the highest qualityservice, beautiful ambiance and delicious food.
We also organize all types of private and business celebrations and events.
---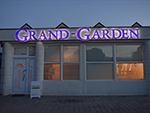 Str. Palmiro Toljati No.103
Address: Str. Palmiro Toljati No.103
Seats (Inside): 150
Seats (Outside): 350
Parking: Free
We Accept:


Peт Friendly: No
Wheelchair Accessible: Yes
Languages: English
Music Type: By deal
Opened: 09.01.2015
Visits: 44603
Moday 09:00 - 00:00 No Events
Tuesday 09:00 - 00:00 No Events
Wednesday 09:00 - 00:00 No Events
Thursday 09:00 - 00:00 No Events
Friday 09:00 - 01:00 No Events
Saturday 09:00 - 01:00 No Events
Sunday 09:00 - 00:00 No Events