About Us
"Gradina" restaurant offers a one-of-a-kind gourmet experience for all your senses. The pleasant ambience reminiscent of a traditional Macedonian house, the warmth of the fireplace and the sounds of "Chalgia" music offer an impeccable and comfortable experience. The taste of the traditional cuisine, enriched with the finest Macedonian wines, guarantees unique moments in "Gradina" national restaurant.
The finest garden in the city is located at only 2 km from the central city area… where you will repeatedly want to come back for more experiences.
You are welcome to visit us!!!
---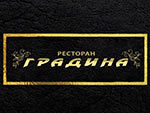 Bul. Prvomajska No.number
We recommend

online

reservation
A reply is received from the restaurant within a few minutes
GET: discounts, value voucher points, free taxi voucher, chance for rating and comments
This restaurant is not accepting web reservations,
Use free call instead.
Choose date
Choose guests
Address: Bul. Prvomajska No.number
Seats (Inside): 120
Seats (Outside): 130
Parking: 200
We Accept:
Peт Friendly: No
Wheelchair Accessible: Yes
Free Wifi: Yes
Languages: English, Italian
Music Type: Old city
Opened: 01.23.2013
Visits: 63741
Moday 08:00 - 00:00 No Events
Tuesday 08:00 - 00:00 No Events
Wednesday 08:00 - 00:00 No Events
Thursday 08:00 - 00:00 No Events
Friday 08:00 - 01:00 No Events
Saturday 08:00 - 01:00 No Events
Sunday 08:00 - 00:00 No Events