About Us
"Edera" restaurant is the perfect place to organize your celebrations and gatherings. We will mesmerize you with our pleasant and festive atmosphere.
The restaurant's capacity is 430 guests, in addition to a personal parking. Our location is at only 4 km from the city center, outside of the city congestion. The 20-year experience under our belt guarantees top quality regardless of whether we are hosting a wedding, birthday or cocktail party.
Let the professional team host your party and become one of our many satisfied clients. Share your most precious moments with us.
Edera – 20 years of experience with delicious food and highest service.
We are expecting you.
---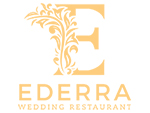 Gavril Konstatinovik No.76
Enter your phone number and we will connect you with the restaurant
or call
+389 2 2439157

Address: Gavril Konstatinovik No.76
Seats (Inside): 460
Seats (Outside):
Parking: 150
We Accept:


Peт Friendly: No
Wheelchair Accessible: Yes
Free Wifi: Yes
Languages: English
Music Type: By choise
Opened: 01.01.1993
Visits: 24993
Moday 08:00 - 00:00 No Events
Tuesday 08:00 - 00:00 No Events
Wednesday 08:00 - 00:00 No Events
Thursday 08:00 - 00:00 No Events
Friday 08:00 - 01:00 No Events
Saturday 08:00 - 01:00 No Events
Sunday 08:00 - 00:00 No Events