About Us
All weddings in November and December 2017 get FREE bridal catering.
Get a promotional 10% DISCOUNT on all wedding menus for scheduled events in July and August, including a FREE candy buffet. Hurry up!
"Dalia-Hanibal" restaurant was opened in 1991, and as of 2005 this restaurant specializes in weddings and other celebrations. Since its opening, the restaurant was renovated several times, and as of this year our guests have the opportunity to use the open pool area that offers landscaped gardening and a great venue for family gatherings and celebrations.
The 20-year catering experience and our uttermost commitment and dedication to satisfying our clients' wishes are the key to our success. We offer our guests a unique chance to taste the most delicious food prepared by top culinary chefs in a state-of-the-art kitchen in compliance with all international standards, accompanied by impeccable service from our professional staff. If we add up the beige and red designed interior that reflects glamour and elegance, we can guarantee a one-of-a-kind experience.
---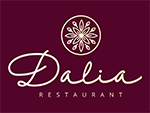 Str.Magjari No.25
Address: Str.Magjari No.25
Seats (Inside): 400
Seats (Outside): 160
Parking: 100
We Accept:


Peт Friendly: No
Wheelchair Accessible: Yes
Languages:
Music Type:
Opened: 11.04.1991
Visits: 47892
Moday 09:00 - 00:00 No Events
Tuesday 09:00 - 00:00 No Events
Wednesday 09:00 - 00:00 No Events
Thursday 09:00 - 00:00 No Events
Friday 09:00 - 01:00 No Events
Saturday 09:00 - 01:00 No Events
Sunday 09:00 - 00:00 No Events