About Us
Dalga restaurant is located in the heart of the old part of Ohrid, by the coast of one of the oldest lakes in Europe - Lake Ohrid. The whisper of the waves of the lake and the orchestra with old traditional music will make your stay in Ohrid an unforgettable experience.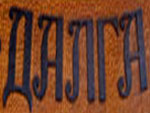 Kosta Abras No.3
Reservation
and we will connect you with the restaurant
How it works?
Our phone center from the number:
02 3085600
will call your mobile, after answering we will connect you directly to the restaurant.
This restaurant is not accepting web reservations,
Use free call instead.
Choose date
Choose guests
Address: Kosta Abras No.3
Seats (Inside): 60
Seats (Outside): 70
Parking:
We Accept:


Peт Friendly: No
Wheelchair Accessible: Yes
Free Wifi: Yes
Languages:
Music Type:
Opened: 05.01.1993
Visits: 11638
Moday 10:00 - 00:00 No Events
Tuesday 10:00 - 00:00 No Events
Wednesday 10:00 - 00:00 No Events
Thursday 10:00 - 00:00 No Events
Friday 10:00 - 01:00 No Events
Saturday 10:00 - 01:00 No Events
Sunday 10:00 - 00:00 No Events