About Us
Featuring a garden and a restaurant, Motel Restoran Ciflik is located in Makedonski Brod. The property provides a playground and free WiFi.
At the hotel, every room comes with a terrace. Rooms are equipped with a private bathroom, and certain accommodations at Motel Restoran Ciflik have a balcony.
The daily breakfast offers continental and à la carte options.
The area is popular for horse riding and hiking.
Skopje is 37 km from the accommodation.
We speak your language!
---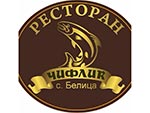 S. Belica Makedonski Brod
We recommend

online

reservation
A reply is received from the restaurant within a few minutes
GET: discounts, value voucher points, free taxi voucher, chance for rating and comments
This restaurant is not accepting web reservations,
Use free call instead.
Choose date
Choose guests
Address: S. Belica Makedonski Brod
Seats (Inside): 100
Seats (Outside): 150
Parking: Free 200
We Accept:


Peт Friendly: No
Wheelchair Accessible: Yes
Languages: English
Music Type: Saturday, Sunday-Live music
Opened: 08.09.2014
Visits: 8829
Moday 10:00 - 00:00 No Events
Tuesday 10:00 - 00:00 No Events
Wednesday 10:00 - 00:00 No Events
Thursday 10:00 - 00:00 No Events
Friday 10:00 - 01:00 No Events
Saturday 10:00 - 01:00 No Events
Sunday 10:00 - 00:00 No Events