About Us
Bonanza Beach and Restaurant is a vision of three friends who have worked for many years in tourism accommodating domestic and foreign guests. Now there idea to build a restaurant on idyllic location and provide quality food and outstanding service became reality.
Located in St. Stefan, 4 km from Ohrid center, Bonanza is on one of the top beaches by the lake.
We are constantly buying and helping local businesses and organic farmers,
with locally sourced produce.

---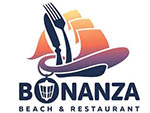 Sveti Stefan
We recommend

online

reservation
A reply is received from the restaurant within a few minutes
GET: discounts, value voucher points, free taxi voucher, chance for rating and comments
This restaurant is not accepting web reservations,
Use free call instead.
Choose date
Choose guests
Address: Sveti Stefan
Seats (Inside): 150
Seats (Outside): 300
Parking:
We Accept:


Peт Friendly: No
Wheelchair Accessible: Yes
Languages:
Music Type:
Opened: 2018
Visits: 8564
Moday 09:00 - 00:00 No Events
Tuesday 09:00 - 00:00 No Events
Wednesday 09:00 - 00:00 No Events
Thursday 09:00 - 00:00 No Events
Friday 09:00 - 01:00 No Events
Saturday 09:00 - 01:00 No Events
Sunday 09:00 - 00:00 No Events