About Us
Amica Restaurant serves Mediterranean and local dishes all day with a range of menus to suit all tastes. Enjoy breakfast, lunch, and four-course dinner in an elegant dining room surrounded by panorama views.
Amica is situated in the heart of Skopje overlooking the quay of the Vardar river and it is the perfect choice for a delightful gastronomic experience. Our deserts are ''heavenly'' as our guests usually say. The flexible event space makes this a popular spot for private parties and celebrations for up to 80 guests. We offer a family friendly ambiance and a wonderful selection of delectable choices at very reasonable prices.
---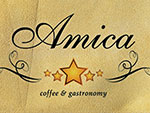 Kej 13 Novembar, GTC 1st floor
We recommend

online

reservation
A reply is received from the restaurant within a few minutes
GET: discounts, value voucher points, free taxi voucher, chance for rating and comments
This restaurant is not accepting web reservations,
Use free call instead.
Choose date
Choose guests
Address: Kej 13 Novembar, GTC 1st floor
Seats (Inside): 70
Seats (Outside): 80
Parking: GTC
We Accept:


Peт Friendly: No
Wheelchair Accessible: Yes
Languages: English
Music Type:
Opened: 05.10.2005
Visits: 3719
Moday 08:00 - 00:00 No Events
Tuesday 08:00 - 00:00 No Events
Wednesday 08:00 - 00:00 No Events
Thursday 08:00 - 00:00 No Events
Friday 08:00 - 00:00 No Events
Saturday 08:00 - 00:00 No Events
Sunday 08:00 - 00:00 No Events