About Us
La Tana is a new tavern with a spirit and smell of traditional-ethno style that will make you feel like in the early nineteen forties. It is a place where you will feel the benefit of delicious food and excellent wine, a place with a sense for quality in a time of low quality products and service in the catering world.
La Tana tavern works with high quality food and provides fast and exceptionally professional service. La Tana is not one of those taverns offering only grill and home-made salads, but chooses to offer a variety of high-quality food and drinks from the Macedonian traditional cuisine. The recipes are prepared by experienced chefs who fulfil all the desires of our visitors.
We are located at one of the busiest streets in the city, near the police station Prolet and Tutunski kombinat Skopje.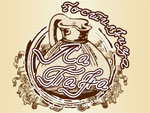 Prolet No.13
Reservation
and we will connect you with the restaurant
How it works?
Our phone center from the number:
02 3085600
will call your mobile, after answering we will connect you directly to the restaurant.
This restaurant is not accepting web reservations,
Use free call instead.
Choose date
Choose guests
Address: Prolet No.13
Seats (Inside): 30
Seats (Outside): 120
Parking: 120 Free
We Accept:


Peт Friendly: No
Wheelchair Accessible: Yes
Free Wifi: Yes
Languages: English, Romanian
Music Type: Live music every day
Opened: 09.19.2012
Visits: 25986
Moday 08:00 - 00:00 No Events
Tuesday 08:00 - 00:00 No Events
Wednesday 08:00 - 00:00 No Events
Thursday 08:00 - 00:00 No Events
Friday 08:00 - 01:00 No Events
Saturday 08:00 - 01:00 No Events
Sunday 08:00 - 00:00 No Events